The St. George Reef Lighthouse holds the record for expense and danger!
The iconic St. George Reef Lighthouse sits off the coast of northern California, near Crescent City, CA and Brookings, Or. Find information, gifts, and history here.

The stormy seas of the Pacific Northwest were made a little safer after the wreck of the Brother Jonathan near Crescent City, California, because the St. George Reef Lighthouse was built. Because this site is so rich in historical value, the St. George Reef Lighthouse Preservation Society was formed to save it from ruin after it was decommissioned in 1975.

The last entry in the station's old logbook by Chief Petty Officer James Sebastian reads, "It is with much sentiment that I pen this final entry, 13 May 1975. After four score and three years, St. George Reef Light is dark. No longer will your brilliant beams of light be seen, nor your bellowing fog signal be heard by the mariner. Gone are your keepers. Only by your faithful service has many a disaster been prevented on the treacherous St. George Reef. You stand today, as you have down through the years, a tribute to humanity and worthy of our highest respect. Cut from the soul of our country, you have valiantly earned your place in American history. In your passing, the era of the lonely sea sentinel has truly ended. May Mother Nature show you mercy. You have been abandoned, but never will you be forgotten. Farewell, St. George Reef Light."
The light & I both left Crescent City in 1975
and we both came back! (Only I left again, and again, and again.)
I didn't appreciate this monument until I reached my 50th birthday and "woke up" (for lack of a better term). My first four years living in Del Norte County as a high school student found me totally taking for granted the sound of the tide horns, the weekly test of the tsunami warning broadcast, the roar of the surf and the light shining out over the sea from the St. George Reef Lighthouse.
To be honest, I didn't think a whole lot about it when the lighthouse was decommissioned in 1975; I was too embroiled in my own dramas to even imagine what that lighthouse had meant or had cost.
It's sad to me to think that such an important part of our history very nearly expired due to lack of interest. Thank goodness for people with vision and foresight -- thanks to a lot of hard work and dedication to a cause, the St. George Reef Lighthouse Preservation Society has ensured that this icon of American Ingenuity and Know-How will be cared for and will be there for future generations.
A local fellow by the name of Guy Towers was the founder who had the vision to form the St. George Reef Preservation Society in 1986. The Society's main goal has been to restore the lighthouse and provide public access to it.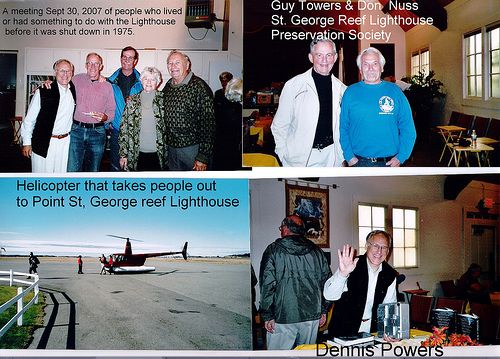 In the spring of 1996, it finally happened: jurisdiction passed from the government to the Society. The first visit by helicopter was that same year; you can't get there by boat because the boom is broken, and because it's way too dangerous! Ya gotta FLY in a helicopter and land on that 43-foot landing pad!
I haven't taken the tour yet - but one of these days, I hope I can gather the courage to get into the helicopter and go. From the photos I've found, I think it's safe to say the view is incredible!
The best book about this lighthouse, bar none!
Available on Amazon
Amazing cover shot of the book -- the Amazon thumbnail didn't do this justice.
"Absolutely fabulous lens! Have been researching this very lighthouse for years ... bookmarked!"
St. George Reef Lighthouse is the setting for this novel
Cape Seduction by Anne Carter
Anne Carter
came and visited this lens - she let me know about her new book, which I'm pleased to spotlight here.
Cape Seduction

About the book:
"
After being the backdrop for 1948's critically acclaimed tragic romance, Cape Seduction, Northern California's Dragon Rock Lighthouse sat shuttered and abandoned for decades-and it also happened to be the last place up-and-coming Hollywood starlet Darla Foster was seen alive. When photojournalist Rebecca Burke locks horns with Los Angeles attorney Matt Farralone while trying to gain access to the derelict off-shore beacon, she encounters the spirit of the sassy, once-promising Oscar-hopeful Foster, and uncovers a 60-year-old secret that sets her world on end
."
About the Author:
"
Anne Carter feels like a Southern California native since she's lived there all but two years of her life. Anne, who also writes under the name Pam Ripling, started her writing career as a short story author and poet. She later found success in full length fiction and has authored a series of paranormal romantic mysteries set in California lighthouses, among them POINT SURRENDER and CAPE SEDUCTION. Her regional short story mystery, "Just Like Jay," appears in MURDER IN LA LA LAND, 2010 anthology published by Sisters in Crime Los Angeles. Anne lives in Los Angeles with her husband and three children, and says she wouldn't live anywhere else."

Also available in the Kindle Edition:
Cape Seduction (Beacon Street Mysteries)

Get your Kindle Here and Get Free Shipping:
Kindle Paperwhite, 6" High Resolution Display with Built-in Light, Wi-Fi - Includes Special Offers
You Can Visit!
This is the ONLY Off Shore Lighthouse in the WORLD with Public Access!
Places you can visit that focus on this amazing place
(pssst - the book's even better!)
This is the official web page of the St. George Lighthouse Preservation Society. This is where you go to buy the films and (more importantly!) where you can arrange to make a visit out there!
The good ol' Wikipedia article has a lot of info, but not much of the romance. Still, for facts and figures, it's not bad.
The description is accurate except for the public access part - there are now helicopter visits by the St. George Reef Lighthouse Preservation Society. See the first link for details!
The museum is housed in the old jail on H Street. For having so few volunteers and such a limited budget, the Del Norte Historical Society has managed to save an impressive collection of artifacts and interesting items. One item of GREAT interest is the Fresnel Lens out of the St. George Reef Lighthouse. You cannot visit Crescent City and fail to stop in and see this - it's a once in a lifetime experience. Well, not quite as exciting as flying out to the lighthouse, but darned close!
Great Photos Here!
On A Clear Day
You can see the lighthouse. Due to an atmospheric condition that I don't know how to explain, there are days when the lighthouse appears MUCH CLOSER than the actual six miles out. Driving the coastal road between Crescent City (CA) and Brookings (OR) the lighthouse is easily visible, but there are days when you'd almost swear the rock it sits on has moved! It's quite uncanny, and can give you a spooky feeling if you're not expecting it.
How did Point St. George get its name?
About 8 miles northwest of Crescent City, there is a collection of exposed rocks and covered ledges; it is upon one of these large exposed rocks that the St. George Reef Lighthouse sits.
 St. George Reef Lighthouse Postcard
The name dates back to 1792, when George Vancouver applied the name "Dragon Rocks" to this most treacherous area of sea. If you don't know the story of St. George and the Dragon, it probably won't mean anything to you that the nearest point of land was named Point Saint George in hopes that this dragon might one day be slain.
On July 30, in 1865, the Brother Jonathan went down on the reef and many lives were lost. It was that wreck that gave impetus for the building of this incredible feat of engineering.
Pt. St. George still carries the name, and has public beach access. Dress warmly -- the winds are quite brisk!
Crescent City, CA is the village nearest this historic icon
Info about the Brother Jonathan Wreck is there
Many Visitors Enjoy Visiting Pt. St. George!
And some of them upload videos to YouTube!
This is an automatically generated listing based on the search term "Point St. George"
A Little Something Extra
The Triplicate publishes Crescent City News, Sports, Weather, Classifieds. The Crescent City Triplicate offers the most comprehensive News, Sports, Weather, coverage in Northern California.
References for Lighthouse History Buffs